"The HDR-FX1 is what we will consider to be the benchmark in video technology available for consumers and prosumers alike," said Linda Vuolo, Product Manager for Sony Camcorders US, as she announced the world's first HDV 3 CCD camcorder. Although the HDR-FX1 is technically the first HDV camcorder, the HDV specification is based on a compression standard first introduced in a JVC camcorder. That camcorder from JVC was the first consumer HD camcorder, the GR-HD1. The GR-HD1 also had a companion camcorder, the JY-HD10U, based on the same technology in JVC's professional line. "JVC is proud of our leadership in helping to launch the HDV format with the introduction of our GR-HD1 18 months ago. We welcome Sony's decision to join us in supporting the format," said Dave Owen, General Manager of Video at JVC in reaction to the Sony announcement. The key distinction between the JVC HD camcorders and the Sony HDR-FX1 is their shooting mode. The JVC camcorders shoot 720 lines of resolution at a rate of 30 progressive frames per second, while the Sony shoots 1080 lines of resolution at 60 interlaced frames per second. The two rates contain nearly identical amounts of information; however, one offers the benefits of progressive scan, and one a higher resolution picture. Both camcorders compress the information into an MPEG2 signal and save it on standard MiniDV tapes. Like the JVC, the HDR-FX1 is capable of recording a standard DV signal as well as an HDV signal.
For more technical information on Sony HD camcorders and other's please visit: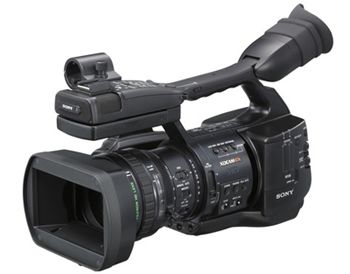 The
Sony PMW-EX1 is a flash-memory based high definition camcorder capable of a variety of frame rates and resolutions using Sony's new XDCAM-EX intraframe codec. The Exmor 1/2" CMOS sensors used in the PMW-EX1 provide unprecedented levels of image clarity previously unavailable in the prosumer market. Sony's sophisticated SxS Pro memory cards add a unique dimension to almost any production. Enhancing both usability and workflow efficiency, the PMW-EX1 has an extensive set of features that push the boundaries of traditional handheld cameras, including a continuous record time of up to 140 minutes! Whether shooting in 720p, 1080i, or 1080p modes, the PMW-EX1 has it all covered. Its bevy of output settings lets users take advantage of fast and slow motion, as well as popular framerates such as the "film-like" 24p mode.